Fortress LDK 12' Lineset Wall Duct Kit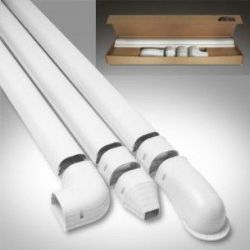 Brand:
Rectorseal

Model: LDK

Kit includes 12' of duct and fittings for a standard installation.

LDK Kit includes:
LD – Ducting 4' Long ( 3 )
LJ – Couplers ( 2 )
LW – Wall Inlet ( 1 )
LEN – End Fitting ( 1 )
LK – 90º Flat Ell ( 1 )

Assures complete flexibility of installation
Professional grade ducting, protects and hides unsightly mini-split linesets in a snap
Fortress is perfect for mini-splits, high velocity and conventional split air conditioning systems.
Fortress protects lineset, wiring and drain hose from weather, vandalism, pet and pest damage.
Fortress installs quickly, and can be easily accessed for repairs or replacement of the lineset.
More products in Other Products